Garbage Disposal Repair & Service
Call For Service: 512-444-6370
Thank you for choosing Sidney Cox Plumbing. We are here to help you.
Call us today to arrange for a professional licensed plumber to provide you with an assessment of your plumbing issues and a no hassle estimate.
We can get your garbage disposal working again or replace it for you. We understand that when the garbage disposal is not working or not working like it should, it can be very frustrating. This is why we will do everything we can to get it working like it should, or replace it for you. We can resolve the following problems:
The Sink Will Not Drain
The Disposal Will Not Run
The Disposal Will Not Turn On
The Disposal Is Leaking
The Sink Is Leaking
The Disposal Is Rusty
A Non-Food Item Got Caught In The Disposal
Most of the time, the garbage disposal will only need repaired, such as a new seal if it leaking water under the sink, or the blades cleared of any foreign objects that get caught up in the moving parts. Sidney Cox Plumbing can help you with these issues and many more.
We service all types of plumbing issues:
Leaky Faucet Repair and Replacement
Toilet Repair and Replacement
All Plumber Repairs and Service
Broken Pipes
Hot Water Heater Repair or Replacement
Sewer and Drain Repair or Replacement
Plumbing Inspections
Shower System Upgrade or Remodel
Garbage Disposal Repair or Replacement
We service the Austin Metro Area, including Dripping Springs, Round Rock, and many cities in between.
Sidney Cox Plumbing is able to hand all your plumbing needs from emergency repairs to complete remodels.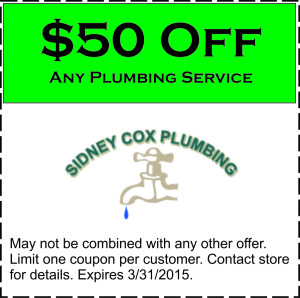 This coupon is good for $50 Off any plumbing service and will apply to same day service only. Call store for complete details.
---
Have you considered Moen Fixtures?
Moen Fixtures are Known for Design, Function, and Reliability.